Logo Shortbread Cookies in a Tin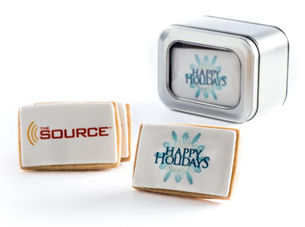 Print any image, design or logo directly onto our fondant topped shortbread cookies. We do not use edible paper.
Set up charge $15.00, Subsequent photos $10.00.

Available in 2 inch x 3 inch Rectangles. They will be stacked in the tin. If you want a Ribbon and a bow add 75 cents each.

Under 100 will be $9.00 each
Between 101 and 299 will be $8.10 each
Between 301 and 499 will be $7.20 each
Over 500 will be $6.30 each

Click here to get back to main corporate ideas page.